With the title "Phosphorus plant removal from European agricultural land" the researchers Panos Panagos, Anna Muntwyler, Leonidas Liakos, Pascual Borrelli, Irene Biavetti, Maria Bogoños and Emmanuel Lugato have published a more than interesting article in the "Journal of Consumer Protection and Food Safety".

The interest of this the article lies in the fact that the authors evaluate the importance of phosphorus in the growth and development of plants within the new European framework "Farm To Fork" whose objectives are the significant reduction in the use of fertilizers.
Phosphorus is one of the most important nutrients for the growth and production of crops, and in excessive use it becomes a contaminant. It is clear that the European Commission has a handicap in reducing fertilizers and maintaining food security for Europeans.
The objective of this interesting research was to estimate the removal of P from soils by harvesting crops andeliminationof crop residues. Specifically, we attempted to estimate P removal taking into account production area and productivity rates of 37 crops for 220 regions of the European Union and the United Kingdom (41.5% of the planet's surface).
And for this, the most extensive soil surface database in Europe was used (Land Use/Cover Area frame Survey ;LUCAS), and analysing the physical and chemical properties of 20,000 samples every three years.
And, personally, one of the most interesting contributions of this article, is that it makes a revision of the phosphorus cycle in the crop and the soil; as well as the importance of agricultural regions that we must know.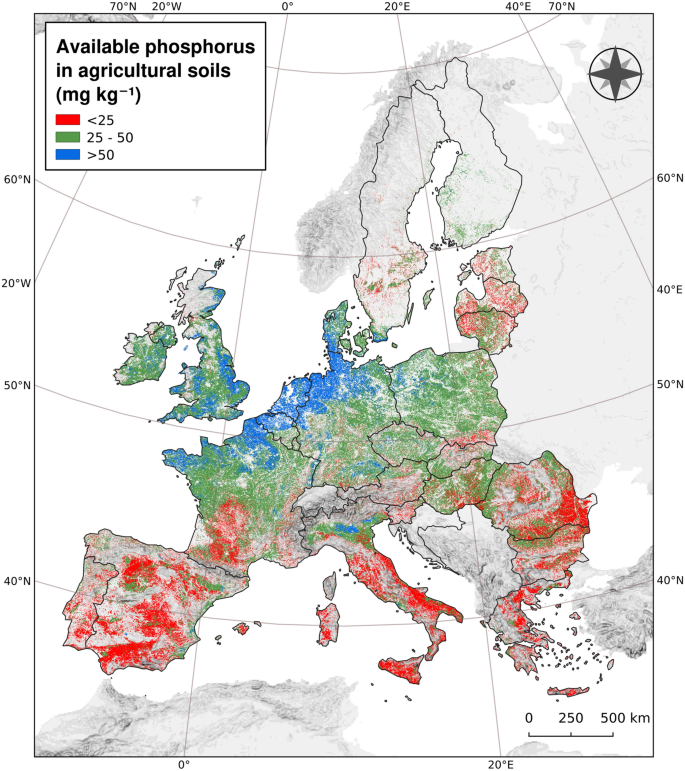 Conclusion
Again, when on the CONSOLE blog we recommend a scientific article, we recommend direct consultation. That's Why, we will not disclose the results of the investigation. However, if we dare to point out that cereals and vegetables they are the crops with the highest P elimination rate; as opposed to fruit crops.

But, as we have just commented, there are regional differences, with the greatest P losses occurring in the northwestern regions of Europe as opposed to the Mediterranean regions and southeastern EU.
The value of the information presented by the researchers is that it allows the improvement in decision-making of the CAP policies in relation to the use of fertilizers.