Institution Name
European Landowners Organization (ELO)
Address
67 rue de Trèves
City
Bruxelles
Country / State / Region
Belgium
ZIP / Postal Code
1040
Logo
www.elo.org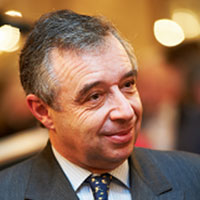 Thierry de l´Escaille

Financial Management, Secretary General – CEO of ELO
thierry.delescaille@elo.org

General Supervisor and Final Responsible for all European funded projects since 2002. Thanks to his long experience in managing family enterprise in Belgium, France and the Netherlands he has occupied various positions in numerous organizations of national and EU importance with a strong relation to private property, land and forestry management, real estates and finances.

Marie – Alice Budniok

Director of legal and administrative affairs
alice.budniok@elo.org
With 16 years' experience of lobby and project management, she is specialized in environmental, energy, communication and legal issues.

Dr. Jurgen Tack

Scientific Director
jurgen.tack@elo.org

In 2016 he took the position of Scientific Director at the European Landowners' Organization (ELO), CEO at Landelijk Vlaanderen (Flemish Landowners' Organisation) and CEO of the Aanspreekpunt Privaat Beheer Natuur en Bos (an advisory organ for private landowners on the management of nature and forest). From 2013 to 2015 he was President of the International Riverine Commission River Maas/Meuse (a multilateral treaty organization). Since 2014 he is acting as an expert for the European Commission on Nature Based Solutions. In 2017, he was chair of the Flemish Environmental Council.


Ana Rocha

Senior Policy Advisor
ana.rocha@elo.org

Agriculture Engineer, Senior policy officer for agricultural and forestry issues.


Marie – Christine Berger

Project Officer (AGRIWATER, BioWILL, CONSOLE, FERTIMANURE, REFLOW)
mariechristine.berger@elo.org

Young professional with experience in project management, research field work and communication. Working on Horizon 2020, Erasmus+ and NWE Interreg projects.